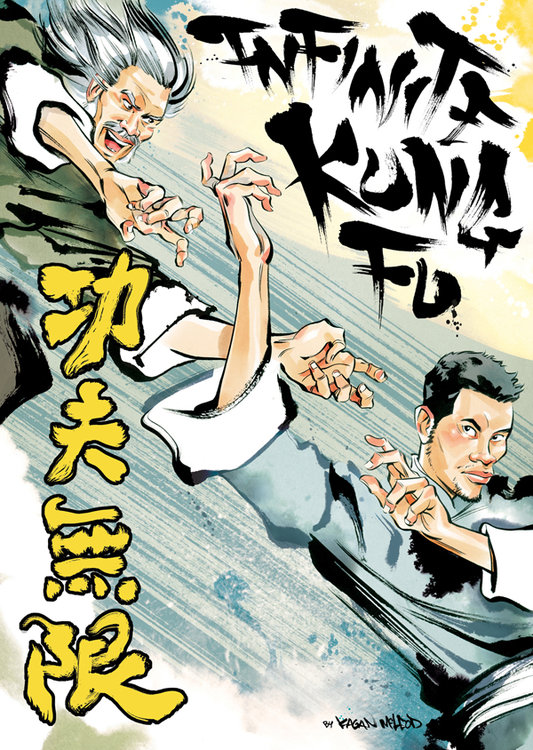 "The best elements of horror, Westerns, and of course, kung fu films are seamlessly interlaced to tell a highly imaginative tale. You couldn't sandblast the smile from my face as I read this." – Ain't It Cool News

"INFINITE KUNG FU is glorious and deranged in the way that all comics should be." –Warren Ellis, author of Transmetropolitan, Red, and Crooked Little Vein

Read the first 250 pages online at Top Shelf 2.0!

Infinite Kung Fu walks you through familiar corridors in the house of martial mayhem, but still smashes your face through walls of wonder and into rooms where kung fu is afraid to go.

Catastrophe has knocked most of the world back to the middle ages — and to make matters worse, the dead are rising from the grave as zombies (reincarnation gone wrong)! In this world, where the way of the fist is a way of life, ex-soldier Lei Kung must infiltrate the evil emperor's five kung fu armies and stop him from destroying all life on the planet. Allegiances are blurred as techniques are perfected, and Lei Kung becomes less certain who's friend and who's foe in each chapter!

Fists fly, limbs are lost and blood vessels burst in this tale of furious rivals, supernatural masters, walking corpses, and above all, raging kung fu! — a 464-page deluxe flexi-cover graphic novel, 6.75″ x 9.5″
Infinite Kung Fu By: Kagan McLeod
Sup guys,
About a month ago I received a Email from Jerry Graham telling me about the graphic novel Infinite Kung Fu which I believe he promotes. So when I started reading through the first 250/464 pages I fell in love with it!
At the start of the novel there's already that talk about hidden Kung Fu secrets and some wicked cool Kung Fu action. As you get deeper into the story McLeod introduces a new form of hidden Kung Fu secrets and lore which automatically grabs your attention. Some of the lore involves 8 Immortals who take on 8 students to teach them the secrets to all that seemed impossible such as invisibility, Alchemy, Transmutation, Magic Kung Fu, and even Resurrection. But not only is their a good side to Kung Fu their is also a zombie toting extremely destructive sided fu that is very tempting to many martial artist especially to ones who were taught by the Kung Fu gods!
McLeod was inspired by every single Kung Fu movie and it truly is shown in this comic. The layout to the graphic novel is magnificent the way it transitions from chapter to chapter using 1-2 characters slapped on to a blank page really strikes you in a way that gets you to put yourself in their shoes. McLeod doesn't limit his creativity according to the panels he shows what he wants how ever the hell he wants! When reading this comic the pictures will start to blend together to play like a real Kung Fu movie.
Overall I say that if you are a graphic novel lover and especially a Kung Fu fan this is a most buy, it is a original story with the greatest inspirations to shape it. McLeod will not disappoint you at all, and I never thought a Kung Fu graphic novel will grab me like this one did and I know it will grab you the same way!
Also in my opinion for any movie producer out there that some how happened to fall upon this review PLEASE MAKE THIS A MOVIE THAT IS TRUE TO IMAGE, DIALOGUE, AND EVERYTHING!!!!!
P.S. We here at NB want to say we just hit a magnificent milestone 20 POSTS!!!! Also please leave constructive criticism below and or sending any article suggestions please.